BigCommerce Design - "Making it easy for anyone to sell online"
BigCommerce is our new ecommerce design solution, fully functioning and jam packed with many brilliant features this powerful solution 'Makes it easy for anyone to sell online'.
You can have a Frooition World-class BigCommerce Web Design for as little as
£1150 +VAT
;
here are some of the fantastic features:
Frooition World-class design unique to your business
No transaction fees - ever!
Superior SEO functionality
Customise your store with 'drag and drop'
eBay export feature (Available if purchased with a Frooition eBay Design)
Unlimited FREE BigCommerce Phone and Technical Support *
And so much more!
*Subject to which BigCommerce package you choose
Want a World-class website design proven to increase sales and product exposure?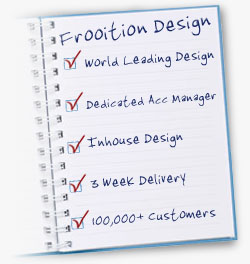 With over 163,000 online clients and a reputation of 'World leading designs' we understand how to create highly engaging web designs that increase traffic and sales.
Our BigCommerce designs are proven to enhance your buyers shopping experience, positioning your store as a major online brand whilst retaining the personal look and feel of your business.
In addition to the benefits above:
World-class BigCommerce Design Partner
Dedicated Account managers
All our designers work in house, no third parties
163,000 online satisfied customers
Delivered in as little as 3 weeks!
In addition to our fantastic designs we've developed the markets best BigCommerce to eBay product integration tool; with Frooition you can sell your BigCommerce products seamlessly on eBay!
Sell on eBay? - "Exclusive eBay/Bigcommerce data transfer tool"
Exclusively available to Frooition BigCommerce customers who have a Frooition eBay design; you can now export your entire product inventory from BigCommerce into eBay or move your eBay products into BigCommerce!
Sell your products on the largest online market place - eBay
Increase your product exposure and sales
List your products to eBay in half the usual time
Go multi-channel with consistent branding
Not only will your future BigCommerce website look fantastic but with this eBay export tool you can now go multi channel; dramatically increasing your product exposure and sales on the World's largest online market place; eBay.

Read More...
BigCommerce Design Service Levels:
A Frooition BigCommerce design empowers your online business with maximum engagement.
There are three design service levels to choose from depending on your business requirements, please see below:
Advanced
Premium
Complete
Features:

Custom Layout for home and categories (1, 2 or 3 column)
Splash Home Page
3 x Image Fading Center Hero
1 x Custom promotion Box
5 x Brand based navigation OR 5x Category Boxes
Horizontal single level category Menu



6 x Additional Custom Category boxes OR Brand Boxes
2 x Stage Drop Down Search
6 x Custom Category Page Headers
Horizontal drop-down Category Menu



Example:
Advanced
Premium
Complete
* 3 Months Bronze Subscription available as discount.
BigCommerce Design Features:
Design:

Drag & drop, user-editable layout
Customise text & content
Zooming photo gallery
Lightbox effect for large images
Automatic thumbnail creation
Persistent Cart on every Page

Marketing:

Editable email templates
Coupon/discount codes
Google Analytics integration
Automated checkout emails - including tracking numbers
Full CMS system
Integrates with Email marketing software
Social media marketing
Optimised for Mobile - Compatible with iPhone, iPad, Android, Blackberry and Palm

Inventory:

Web based control panel
Bulk Import items via spreadsheet
In-built returns system (RMA)
Import products directly into Frooition for use on eBay

SEO Friendly:

SEO Friendly URL's
Customise meta data on every page
XML sitemap for Google

Checkout:

Integrates with most payment gateways (Over 50 including PayPal & Google checkout)
Single page check-out
Custom checkout fields
Multi Currency



You can tailor any of the above packages with our BigCommerce Optional Extras
Who uses Frooition Ecommerce Web Design?
With over 163,000 happy clients, we have a huge range of large and small businesses who use our quality services. These include:

You will really notice the difference with one of our BigCommerce Website Designs! Take a look at some of our
Frooition Reviews
BigCommerce makes it easy to sell online. Click here to try it free!
What Happens Next?
To get started, simply call us today on T:
01384 480 810
or
enquire online here
and our eBay Professionals will discuss the next steps to enhance your eBay store and sales!